Pure natural surrounding and a breath-taking mountain panorama make an idyllic alpine summer perfect.
Hiking
The Alpe di Rodengo is right at the front door and it's a true hiking paradise. A wide offer of hiking trails at all levels of difficulty will wait for you.
The Malga Fane is considered the most beautiful Alpine hamlet of South Tyrol and is a family excursion destination all year. It is also starting point for worthwhile mountain hikes.
A hiking tour through the enchanting Valle d'Altafossa valley is ideal for families with children. For capable hikers it is a must-do to carry on up to the Campolago Lake.
Families with a thirst for knowledge will enjoy the exciting themed paths:
The Natural Bee Trail in Rodengo gives an insight into the life of the bees and the origins and processing of honey and other products.
At around 3 km long, the Elf trail in Vandoies di Sopra is suitable for children and adults alike. Eleven stations provide you with active learning experiences such as reading tracks, watching game in their enclosures and enjoying some bird watching.
Those who love fairy tales should visit the Maranza Legends Trails. On each trail there are stations where stories are told, which supposedly have taken place right there.
The "Milk Path" in the village of Valles is dedicated to one of the most common products of alpine South Tyrolean farms: milk.
Cycling
Our region offers perfect conditions for a wonderful cycling holiday.
Among the favorite routes there is the one of Pusteria Valley cycle path. The approximately 105 km long tour leads along the entire Pusteria Valley to Lienz in Austria. The paved cycle path is also suitable for leisure cyclists and families.
Ambitious mountain bikers can expect athletically challenging rides and trails in the highlands and on the plateaus.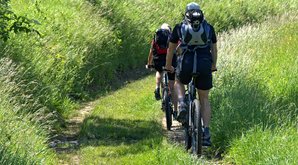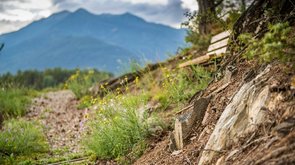 Family
A family holiday offers fun, action and relaxation.
Every day is a new adventure and each season a memorable experience.
Due to the central location of our region, there are many opportunities for excursions that will delight adults and children alike.
You can enjoy the Almencard Plus as well as an extensive weekly programme for young and older guests.


Almencard Plus
You will receive your free Almencard Plus at your arrival and it is valid for your whole stay between 01th may and 30th November 2017.
Almencard Plus Highlights:
Free admission to over 80 museums and collections in South Tyrol
Free use of regional public transport across South Tyrol
Unlimited use of the 2 mountain aerial lifts "Gitschberg" (19.05. - 03.11.) and "Jochtal" (09.06. - 03.11.)
Bus ride from Rio di Pusteria to Alpe di Rodengo-Luson from early-May till late-October
Free participation in the weekly program


Tips for family trips
You should definitely visit the Castle of Rodengo with the chapel of Saint Michael, the weaponry hall, the garden and the "Lauterfressloch" in which Matthias Perger, "the Lauterfresser" was captured.
WoodyWalk is a circular trail on the Plose and is suitable also for buggies. Along the way there are numerous attractive stations, which provide variety and invite to play and relax.
The Monte Cavallo leisure mountain offers mountain disc golf by the highest 18-hole parcours of Europe. This funsport combines the idea of ball golf with the easiness of the Frisbee. A real attraction for the whole family and for all ages.
Visit the fun and adventure pool Aquarena in Bressanone or the Alpinpool in Maranza - a refreshing experience on hot summer days.
The historical drama tours in Bressanone are an unforgettable experience for young and old.
Actors in historical clothing will take you back to bygone eras and will reveal surprising details about daily life in the past at different places of interest in the old town of Bressanone.


Adventure tips for kids
Adventure for kids on the farm Galtinerhof at Rodengo (5 - 9 years)
Krixly Kraxly – trial climbing for children between 5 - 9 years of age in Jochtal and/or Kletterhetz – trial climbing for children between 10 - 14 years of age in Valles
Horse-sleigh rides for kids in Maranza, from age 5
At the shores of Lake Issengo there's the outdoor & fun park Kronaction, one of the largest high-rope courses of South Tyrol with 14 courses with over 140 elements and the new attraction: the SlingShot – the human catapult.
Medieval games for kids in the close of Rio di Pusteria (5 - 9 years)
Guided tours for kids at Castle Rodengo
Try out a ride on the Plose mountaincarts! It's a real adventure to rush down the 9 km long run to the bottom station of the gondola lift.